Amplifier ULTRACOUSTIC ACX1800
(0 đánh giá)
Mã SKU: ACX1800
Mã hàng : ACX1800
Bảo hành : 12 tháng
Tình trạng : Còn hàng
Xuất xứ: Chính hãng( Cung cấp Co,Cq, - Invoice/Packing List)
Số lượng

Tư vấn & Báo giá
Amplifier ULTRACOUSTIC ACX1800.
Amplifier ULTRACOUSTIC ACX1800 là bộ tăng âm của thương hiệu Behringer hiện được nhập khẩu và phân phối chính hãng bởi behringervietnam.vn tại Việt Nam.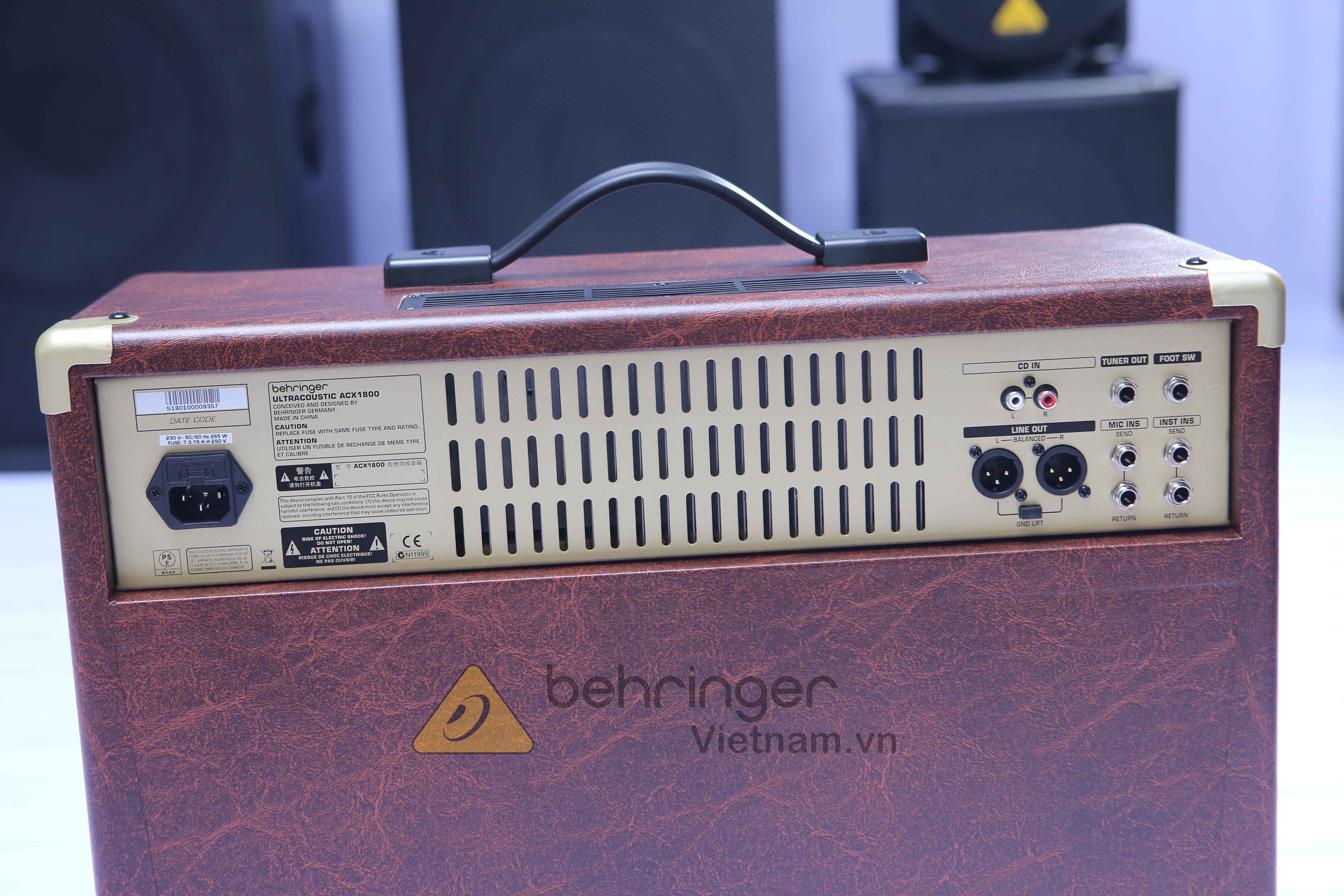 Versatile Sound Tools
With two integrated 24-bit digital FX processors this amplifier can produce up to 16 different digital effects,that along with its dual 9-band equalizer can help you create the unique sound you are looking for. In addition, the compressor reduces the dynamic range of a signal, which results in a more homogeneous sound. The stereo input allows you to add MP3 or CD music to your amplifier, so you can listen and practice along with your favorite music.
Feedback Reduction
The switchable phase correction allows for feedback prevention, as well as the unique FBQ Feedback Detection System that instantly reveals critical frequencies. Dedicated instrument and microphone channels with separate Gain, Compressor and FX controls also help in the reduction of feedback, allowing you to tune your instruments quickly and reliably.
>> xem thêm Power Amplifiers Behringer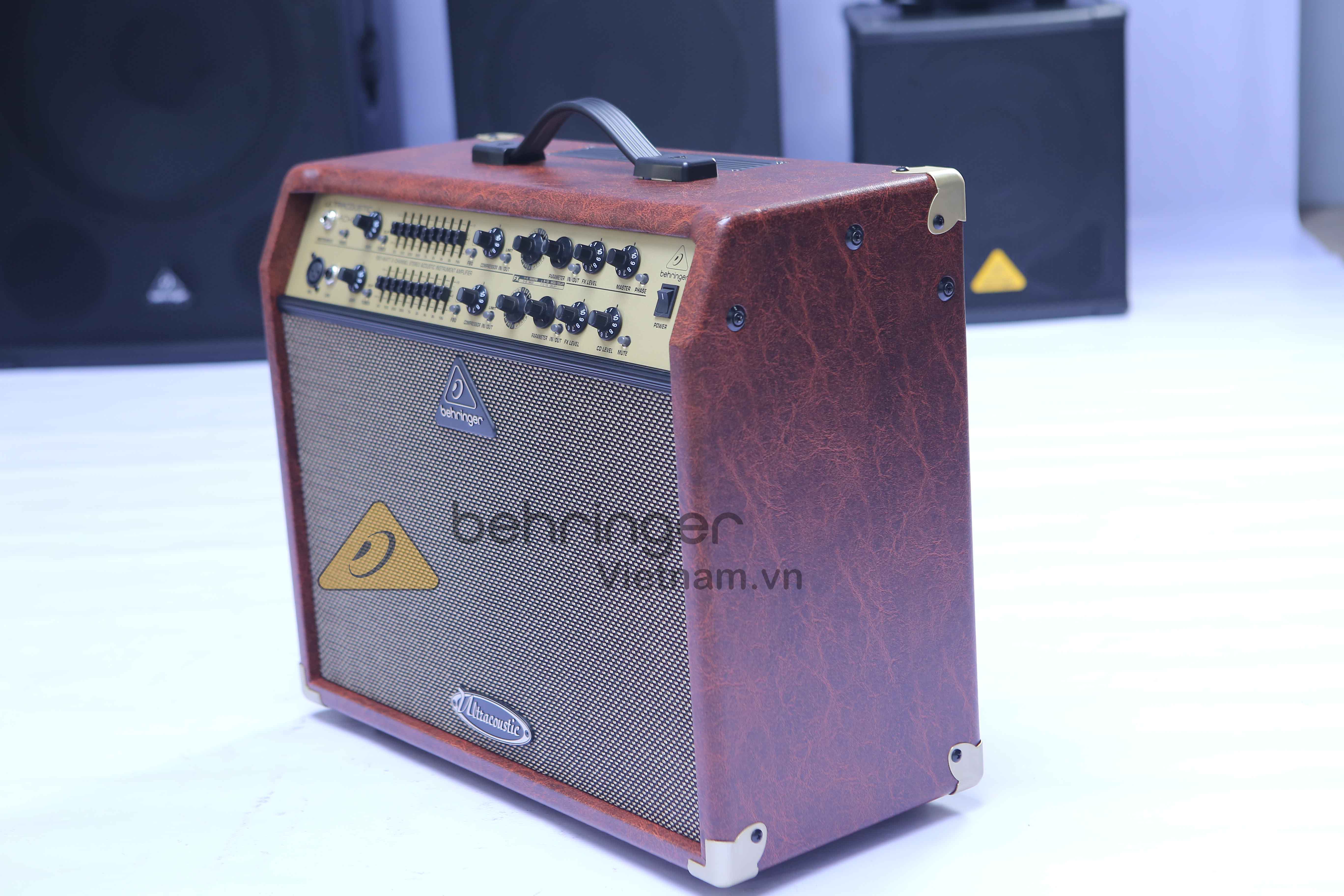 Power Output
180W
Speakers
2x 8.0" (20.3 cm); BUGERA Dual-cone Speakers
Inputs
Instrument - x1
Microphone - x1
Line-in - x1
Instrument Insert Return - x1
Microphone Insert Return - x1
CD - x1
Outputs
Line-out - x1
Instrument Insert Send - x1
Microphone Insert Send - x1
Tuner Out - x1
Controls Front Panel
Gain Controller - x2
Tuner Switch - x2
FBQ Equalizer - x2
FBQ Switch - x2
Compressor Controller - x2
In/Out Switch (on/off switch for Compressor/FX) - x2
FX Select Controller - x2
FX Level Controller - x2
Parameter Controller - x1
Master Controller - x1
Phase Switch - x1
CD Level Controller - x1
Mute Switch - x1
Power Switch - x1
Controls Rear Panel
Ground Lift Switch - x1
Effect Type
Chamber, Room, Hall, Concert, Chorus, Flanger, Phaser, Tremolo, Chorus/Delay 300/400 ms, Flanger/Delay 300/400 ms, Short Delay (80 ms), Medium Delay (300 ms), Delay (400 ms) and Long Delay (500 ms)
Casters
No
Dimensions (WxDxH)
20.7 x 9.5 x 16.8" (52.6 x 24.1 x 42.7 cm)
Weight
40.6 lbs (18.4 kg)